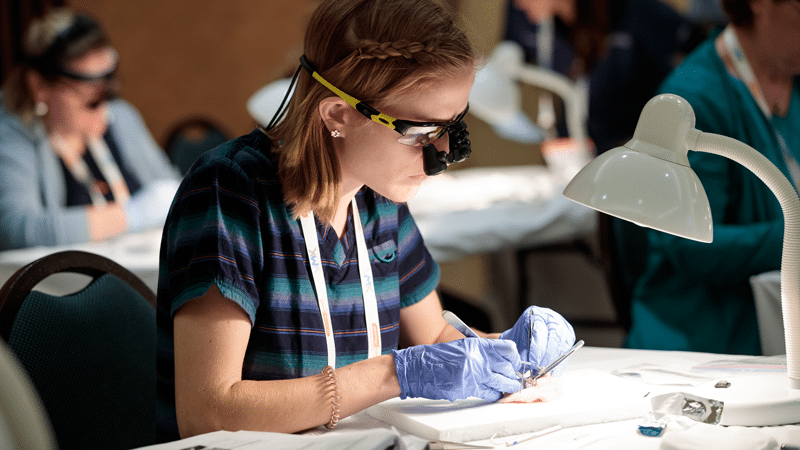 VMX Offers 65 Tracks and 400+ Sessions to Choose From
Small animal veterinary professionals can earn more than 42 credit hours in the course of the 5-day VMX event.
Small Animal Tracks
At VMX, you'll find small animal tracks covering the below topics.
Acupuncture
Anesthesia & Analgesia
Behavior
Cardiology
Cytology
Dentistry
Dermatology
General Medicine
Geriatric Medicine
Endoscopy
Euthanasia
Forensics
Hepatology
Holistic Medicine
Human-Animal Bond
Nutrition
Oncology
Ophthalmology
Pain Management
Pharmacology
Preventative Care
Rehabilitation
Respiratory
Shelter Medicine
Sports Medicine
Surgery
Veterinary Medicine of the Future
Wound Healing
Small Animal Workshops
Enhance your learning with these Hands-on Workshops
Canine Flexible GI Endoscopy
Speakers: David C. Twedt, Mark C. Walker, Todd R. Tams
After a brief demonstration, attendees will gain experience in performing upper GI endoscopy on dogs, with a flexible endoscope. The instructors will demonstrate the proper technique for esophagoscopy, gastroscopy, and duodenoscopy. The participants will practice proper handling of the endoscope and maneuvering skills for traversing and examining the upper GI tract. The instructors will also demonstrate retrieval of a simple foreign body from the stomach. This experience is geared toward beginning to intermediate level endoscopy training for primary care veterinarians.
---
Clinical Application and Tips for Neurological Exam in the Dog
Speakers: Kristy Broaddus, Jude Bordelon, Rose Peters
The dreaded neurological exam! Sometimes the exam results can be straight forward and revealing. In other situations, it results in a myriad of seemingly conflicting information. This workshop will alleviate the stress and minimize the complexity of the neurological exam by providing participants a comprehensive review of the neurological examination in the dog. An in-depth review of cranial nerve and peripheral nerve evaluation will be provided to participants. Additionally, the methodology and clinical application of abnormal results of the examination regarding diagnosis or diagnostic potential will be discussed. All participants will be allowed to practice examination techniques on live dogs.
---
Common Feline Surgery Procedures
Speakers: Howard Seim, Brad Case
This course is designed to teach participants the technical aspects of a variety of feline soft tissue surgery procedures. Some 'theory' will be included in the lectures, but emphasis will be placed on 'how' to perform each procedure. The instructor will utilize video clips of clinical cases that represent the procedures participants will perform in the workshop. Surgical procedures will be performed immediately after viewing the video. The videos will be viewed in the same room so no time is wasted between seeing the procedure and performing it on a feline specimen! Topics have been chosen that represent surgical conditions commonly seen in cats and include: nasal planum and auricular resection, esophagostomy feeding tube placement, a new approach to perineal urethrostomy, chest drain placement using a feeding tube, trocar and percutaneous chest drain placement, diaphragmatic hernia repair, and ventral bulla osteotomy.
---
Ophthalmic Surgery: Conjunctiva and Cornea
Speakers: Ron Ofri, Caryn E. Plummer
After a brief 1-hour introductory lecture, about 3-hours of hands-on time will focus on the surgical therapy of corneal ulceration and the proper use of conjunctival grafts or flaps. The different types of corneal ulcers will be compared, and those requiring surgical procedures indicated. The different types of conjunctival grafts, their indications, and limitations will be presented and then performed by registrants under the guidance of expert instructors. Corneal surgeries will include superficial keratectomy, conjunctival grafts, and cornea conjunctival grafts.
---
Ophthalmic Surgery: Eyelid and Nicitians
Speakers: Ron Ofri, Caryn E. Plummer
After a brief 1-hour introductory lecture, about 3-hours of hands-on time will focus on the surgical approach to a range of eyelid diseases including entropion, ectropion, medial canthal entropion, eyelid neoplasia, and the most popular methods to treat prolapsed nictitans glands ("cherry eye") in the dog. The different types of adnexal surgeries will be compared with respect to advantages, limitations, difficulty and long-term results.
---
Refining Your Skills in Canine Lameness Exam
Speakers: Jessica Barrera , Ross Palmer , Sarah Marvel , Clara Goh
Lameness is one of the most common reasons for a dog owner to seek veterinary care…yet confident localization of that lameness is one of the most challenging tasks that veterinarians face on a day-to-day basis. Attendees (veterinarians and nurse/technicians) will learn how to recognize front- and hind-limb lameness, perform a meaningful lameness exam, distinguish cranial- from caudal-cruciate ligament rupture, identify hip luxation & hyper-laxity (subluxation), medial shoulder instability (MSI), carpal hyperextension injury, elbow luxation and more! Make the most of technology at your fingertips by learning how to use your smartphone and related apps to strengthen your lameness localization!
Small Animal Rounds
Acute Abdomen – What's Surgical, What's Not?
Canine Lameness: Case-Based Discussion from Simple to Complex
Gallbladder Mucoceles: Medical vs. Surgical Management
Interesting Dermatology Cases: Diagnosis and Clinical Approach
Lame Cats: Feline Orthopedic Case Discussion
Management of Canine Mast Cell Tumor Cases
Playing with the Full Deck – Integrating Hematology, Chemistry and Cytology
Practical Understanding of T Helper Cell Responses in Infectious Disease and New Therapeutics
Problem Solving in Small Animal Gastrointestinal Surgery
Radiology Film Reading (Abdomen I)
Radiology Film Reading (Abdomen II)
Radiology Film Reading (Thorax I)
Radiology Film Reading (Thorax II)
Should I Cut this Dog? A Case-Based Review for Diagnosing GI Obstruction
Stifle Disorders – Ignore, Treat, or Refer?
The C.O.R.E. Dental Procedure
Vector-Borne Disease Case Challenges
What to Do on a Tight Budget? Practical Internal Medicine Diagnostic and Treatment Tips
Small Animal Meet the Professor Luncheons
Anesthesia Ventilators 101
Antibiotic Decision Making for Sepsis
Beyond Aspirin: Advances in Anticoagulant Therapy
Blood Gas Bootcamp
Canine Epilepsy: Your Questions Regarding Treatment Options…Let's Talk
Complicated Extractions and Extraction Complications
Creating Self-Care Plans for the Busy Professional
Feline Injection Site Sarcomas: Current Diagnosis and Treatment
Feline Soft Tissue Surgery: Ask Me Anything
Handling Emergency Ophthalmic Patients: A Primer for the Whole Clinic
IMHA in the ER
Let's Work Up Some Feline Medicine Cases!
Patella Luxation: Surgical Case Selection and Technique Tips
Periodontal Therapies: Treating The #1 Disease in Your Practice
The Business of Dentistry: The Synergy of Quality and Profitability
The Diagnostic Assay Buffet: How to Avoid Indigestion
The Vomiting Cat
Haven't registered for VMX yet? Register now!
Register now for VMX 2020, the world's leading veterinary event, in sunny Orlando this January. With 1,200+ CE credit hours, 700+ exhibitors and 17,000+ veterinary professionals and guests from around the world, you won't want to miss it!