Find Your Perfect Match. VMX Virtual 2022 Career Fair is February 14-15
Job Seekers Can Connect With Hiring Organizations, Receive Free Professional Development During Two-Day Event, Hosted by The North American Veterinary Community, Banfield Pet Hospital®, and NAVC Retriever. 
Note: This article contains information that is considered out of date.
ORLANDO, FL – FEBRUARY 9, 2022 – Veterinary professionals from around the world can network with employers, refine their resumes, interview for open positions and earn free continuing education (CE) credits by participating in the North American Veterinary Community's (NAVC) VMX Virtual 2022 Career Fair, February 14 and 15. 
According to the U.S. Bureau of Labor Statistics, employment of veterinarians is expected to grow 17% through 2030 while veterinary nurses and technicians jobs are expected to increase 15% during that same period. Both reflect a much faster than average trend compared to other careers.
The VMX Virtual 2022 Career Fair will showcase opportunities for veterinarians, veterinary technicians and assistants, practice managers, retail staff and more that are available at premier veterinary organizations, independent practices and retail operations, including Banfield Pet Hospital, National Veterinary Associates (NVA), Veterinary Practice Partners (VPP), and NAVC Retriever. 
Upon registration, participants are invited to the live webinar "How to Write a Goosebumps Inspiring Resume," the keynote presentation which will be offered each day of the career fair.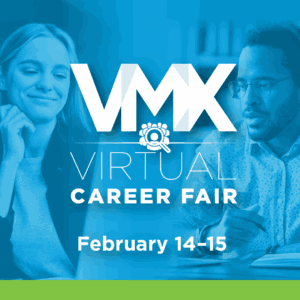 The job fair will be hosted on NAVC's VMX Virtual platform which uses advanced simulation technology. Job seekers can move through the 3D, interactive VMX Virtual platform, explore each hiring organization's custom-designed virtual booth and connect with recruiters as if they were physically there.
"With such high demand for veterinary professionals worldwide, the VMX Virtual Career Fair is an ideal way for job seekers to learn more about potential career opportunities while taking advantage of professional development opportunities that will make them more marketable to hiring organizations," said Gene O'Neill, NAVC CEO. "The NAVC is excited to utilize our robust VMX Virtual technology to create career connections that ultimately help veterinary healthcare teams thrive while leading to the wellbeing of animals everywhere." 
Job seekers can attend either day of the VMX Job Fair:
Monday, February 14, from Noon – 3 p.m. EST
Tuesday, February 15, from 6 – 9 p.m. EST
After the career fair, attendees are invited back to VetFolio for free access to seven CE courses specifically chosen to help participants take their careers to the next level. 
Additionally, all VMX Virtual 2022 Career Fair participants will be entered to win one of four NAVC Certifications in the Human-Animal Bond, Pet Nutrition, Therapeutic Nutrition and Veterinary Business.
About the NAVC 
The North American Veterinary Community (NAVC) is a nonprofit organization dedicated to supporting and advancing veterinary professionals worldwide. The world's leading provider of veterinary continuing education, the NAVC delivers essential training, tools and resources for veterinary professionals to stay abreast of advances in animal medicine and provide the best medical care for animals everywhere. Through its commitment to innovation and excellence, the NAVC has developed a diverse portfolio of products and services, including: educational events, headlined by VMX, the world's largest, most comprehensive continuing education conference and launchpad for new products and innovations within the veterinary industry; a robust digital platform for virtual learning and engagement; the veterinary industry's largest and award-winning portfolio of trade publications; and an advocacy arm which unites the veterinary community and pet lovers. The NAVC was founded in 1982 and is headquartered in Orlando, FL. Since 2017, the NAVC has been recognized annually as one of the Top Workplaces by the Orlando Sentinel. To learn more about the NAVC's products and brands, visit https://navc.com/. To see our schedule of upcoming events, visit https://navc.com/calendar/. 
MEDIA CONTACT: Robin Pence | [email protected] | M: +1.352.317.8651
        Nanci Schwartz | [email protected] | M: +1.305.788.8256