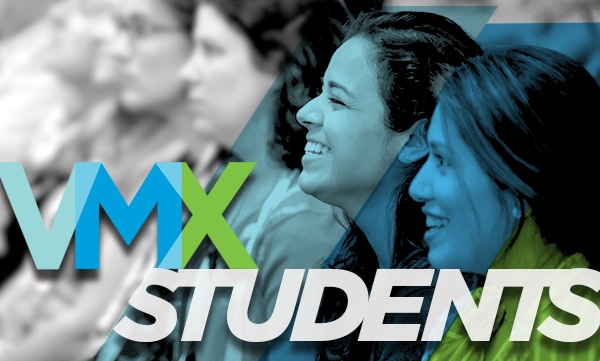 Student's Register FREE at the World's Leading Veterinary Learning Event
Do you know someone studying to be a veterinary professional? Encourage them to jumpstart their career at VMX in Orlando, Florida, January 18-22. Students have the opportunity to learn from the top professionals in the field – absolutely FREE! At a value of $795* students get access to all the scientific lectures VMX has to offer.
Student's at VMX get the opportunity to:
NETWORK with leading veterinary professionals from all around the world! Graduating soon? Looking for experience? VMX is the perfect place to scout opportunities.
GAIN knowledge on a specialty or certain discipline to supplement your curriculum with 1,200 CE credit hours of opportunities to choose from.
EXPLORE the industry's greatest and latest products and services with 700+ exhibitors in the VMX Expo Hall.
RECHARGE with exclusive entertainment and exciting events
Inside the Industry's Largest Veterinary Marketplace
Browse 700+ exhibiting companies, including 20+ veterinary startups at the VMX Expo Hall. Shop for products and catch some extra learning at the Learning Theaters. You'll also find lots of swag and chances to win prizes, too!
*Based on the on-site registration price for veterinarians.
VMX Student registration is sponsored by:
Haven't registered for VMX yet? Register now!
Register now for VMX 2020, the world's leading veterinary event, in sunny Orlando this January. With 1,200+ CE credit hours, 700+ exhibitors and 17,000+ veterinary professionals and guests from around the world, you won't want to miss it!