NAVC Media Awarded 21 Charlie Awards
FMA Recognizes the NAVC Four Years' Running for Excellence in Media
NAVC Brings Home 79 Charlie Awards Since 2018
The North American Veterinary Community (NAVC) received 21 Charlie Awards, including three category sweeps, from the Florida Magazine Association (FMA) at the FMA's annual awards gala Friday evening in Sarasota, FL. The NAVC's industry-leading publications Today's Veterinary Business, Today's Veterinary Nurse, Today's Veterinary Practice and Veterinary Advantage were recognized for the fourth straight year for their excellence in writing, design and advertising.
"In six short years, the NAVC has become the industry's largest trade publisher and is setting the standard for journalism in the veterinary field," said Gene O'Neill, NAVC CEO. "It is a tremendous honor to accept these prestigious Charlie Awards on behalf of a team that has committed so much time, effort and hard work to producing exceptional content and design."
The NAVC's awards included seven Charlie (Gold) awards, nine Silver awards and five Bronze awards; category sweeps in Best Magazine Website, Best Department Design and Best Traditional Illustration; Best Redesign for Today's Veterinary Business; and three Best Overall awards.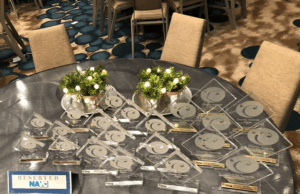 "Recipients of the FMA Charlie Awards exemplify the best in the magazine industry," said FMA President, Karla Monterrosa-Yancey, CAMS. "Competition was fierce as we received the highest number of entries since 2017. We congratulate NAVC for continuing to set a standard of excellence in publishing!"
The NAVC, which has been serving the veterinary community since 1982, launched its media division in 2015. It has become the veterinary industry's largest trade publisher, reaching more than 165,000 veterinary professionals worldwide. The NAVC has been recognized by the FMA each year since 2018, earning 79 Charlie Awards. The NAVC's most recent awards were presented at the FMA's annual awards gala on Friday, July 16. To see all of the NAVC's awards, visit https://navc.com/awards/