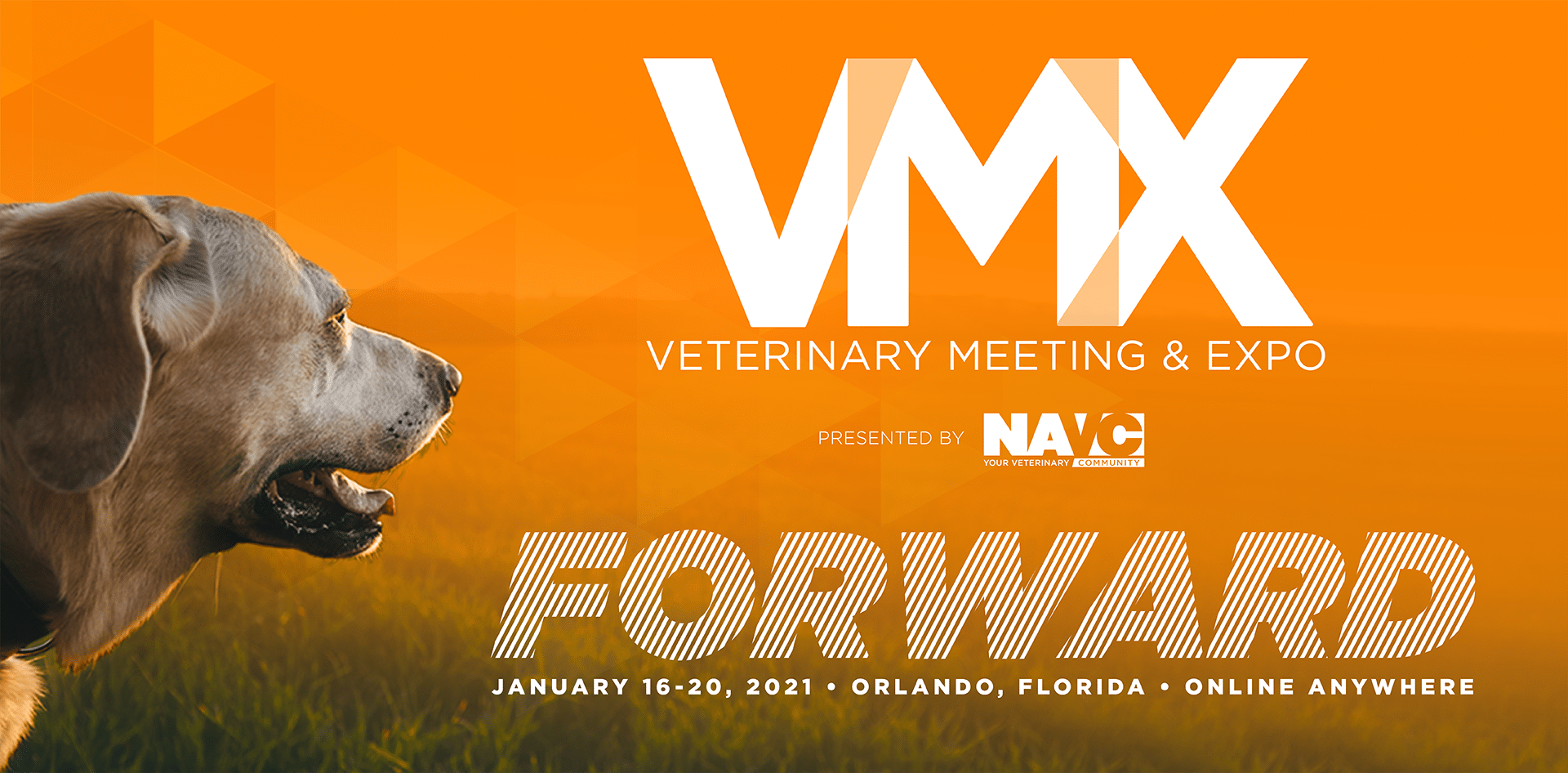 You Asked, We Answered
We're so grateful for all those who submitted questions about our upcoming VMX 2021 event. Hear from NAVC Chief Veterinary Officer, Dr. Dana Varble, as she answers your questions.
Is VMX 2021 still happening?
Yes! We are planning to host a hybrid VMX event January 16 – 20, 2021 that will offer virtual and on-demand options along with our live event at the Orange County Convention Center.
Through our new digital platform, veterinary professionals worldwide can participate in the world's leading veterinary event wherever they are most comfortable — at home or at the convention center — and those veterinary teams that otherwise might not attend VMX can now attend virtually, which is very exciting. Our digital platform will also give attendees opportunities to network worldwide and explore innovative products, services and equipment.

When is registration opening?
We plan to open registration in early August. We moved registration to August as we finalize our plans for the new offerings and digital platform we will have at VMX 2021 as well as added health and safety measures.
What precautions are you taking to keep everyone safe at the live event?
We have added many health and safety measures for VMX 2021 that adhere to strict safety protocols and guidelines from the CDC and federal agencies including social distancing, cleaning, sanitizing, disinfecting, controlling entrances and promoting onsite health reminders. Should facial coverings be recommended by the CDC at the time of the event, masks will be required. Based on health recommendations, we will also adjust capacities and reduce occupancies for your safety.
The Orange County Convention Center has earned GBAC STAR accreditation – meaning that the OCCC follows strict protocols to ensure surfaces are sanitized and the risk of COVID-19 spread is minimized.
Additionally, the Orange County Convention Center (OCCC) has collaborated with Visit Orlando and premier healthcare system, Orlando Health, to launch a new program that will provide added reassurance for health and safety. The medical concierge program is among the first of its kind in the country, and will provide VMX attendees with personalized medical support.
Available services include:
Direct access to personal protective equipment (PPE) for attendees.
24/7 medical concierge through Orlando Health's virtual visit to allow attendees to connect with a physician from their phone, tablet or computer for any individual question or concern during their event.
On-site medical experts and availability of testing for coronavirus.
Customized medical plan guidance with medical professionals to review, provide guidance and answer questions regarding event plans.
Medical advisory services to the event's host hotels, transportation vendors and other partners which provides businesses with clear guidance, videos and PDFs on best safety practices.
When will hotel booking be available?
Hotel accommodations with VMX official hotels will open at the same time as registration in early August. Each hotel partner has implemented health and safety measures to provide a safe and enjoyable experience.
If attendees are unable to travel due to possible travel bans or choose not to attend the conference because of COVID-19, can they receive refunds?
The NAVC has adjusted its cancellation policies to provide more flexibility. Should attendees have trouble travelling or attending the live conference, their VMX Live registration can be transferred to a VMX Virtual pass. The VMX Virtual pass provides interactive online education and Race-approved CE to veterinary professionals from the world's leading veterinary educators.
As the largest provider for CE, will you be scaling back this year's event?
The NAVC is expanding the VMX 2021 event by offering interactive, simulive and on-demand RACE-approved CE through a digital platform, for the first time. The NAVC will create new learning and networking opportunities and expand the reach of VMX to people worldwide who otherwise may never have been able to attend the veterinary industry's largest and most impactful conference.
Have additional questions?
You can review our VMX FAQs page, or submit an additional question.